Playlist:
2 sec left (remix apjiw)
Aim
Celema remix marielle
cobblestone
reversing may(manekinekod-terrien)
bicycle
miami
going west+ video
m4dirty
mardi 5 septembre.(tom terrien remix)
one missing bird
tears (apjiw remix)
Thanks to :
Apji, Marieheuln, Manekinekod, Tom Terrien,Dendenmushi.
Video work: Dendenmushi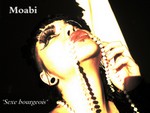 The first thing you should note about Sexe bourgeois is how the track titles hang together to form a single maybe-sweet/maybe-dark sentence.
This would seem to imply a couple of things. First, that what we have here is a suite. Second, that the subject of that suite has something to do with love.
The first suspicion is easily confirmed—the individual tracks do indeed work together, sharing sounds and ideas, and generally forming a cogent whole.
The second, however, is a bit more ambiguous. If this record is about love, it's not the top-40 boyfriend/girlfriend bubblegum variety.
No, this thing is about something
Playlist:
01.I don't think I realize
02.I'm in love
03.Am I blind or...
04.unconscious
Moabi from Toulouse, France, collected three own pieces and two remixes for this fantastic release called "Hanami" (japanese for "enjoying the beauty of flowers").
Set up between Electronica, IDM, Experimental music and Ambient, all five pieces have a very unique, deep feeling.
An impressive mix of beautiful melodies, intense atmosphere and twinkle-toed beats. Starting with the more beat-orientated "Hey You" the EP gets calmer with every following track, finding it's end in the quiet and subtle "Moll"-piece with over nine minutes of glitches and hounted melodies.
Warm your cold winter-feet with this warming organic sounds.

Download (go to "Resting bell")
Release Date: 21.12.2007
Playlist:
1. Hey You
2. Manekinekod Remix
3. Celema
4. 5string Remix
5. Moll
What is "witches ? it's like a fairy tale for adults, but what is an adult ...
Special contribution:
Vybbtuanfriend ("Vybbtuanfriend" (c) remix) | "Sweetprelude" (Ocosi(c)and Pixyblink(c) remix)
Playlist :
Mars
Mitoo
Moneypocket
Sweetprelude
The 60 witches
Unhear
Vybbtuanfriend Cocome
Electric rain
Idm is dead
Kung tong
Madatme
Magic circus
An electronica release...
Umor-Rex is a great label in Mexico visit their
website
.
Playlist :
1/6ster
2/Bercx
3/Myambx
4/Nustereo
5/Ryu
6/Ty...